Shabana Ahmad- Solicitor
Shabana is an Immigration, Asylum and Nationality Solicitor who has a particular interest in Family Immigration, Nationality and European Regulations related matters and appeals.
Shabana can assist you in making various applications to the Home Office and to the British Embassies overseas and can provide assistance at representation in appeals.
Shabana qualified as a Solicitor in April 2004 and is also a Law Society accredited Immigration & Asylum Level 2 Senior Caseworker and Supervisor.  In addition to English, Shabana is also able to communicate with clients in Punjabi, Urdu, Hindi and Gujarati.
Client Testimonials
"Thanks for all your support and advice and for helping me and X to get through this.  I will never forget this all.'
"Thank you for dealing with my case on short notice. Which has resulted in a positive outcome without the need for an appeal.  This could not have been achieved without your hard work. I would like to thank all your staff and especially yourself.  Keep up the hard work!'
'Thank you for helping me out whenever I needed you'.
Camille Hulme- Solicitor
Camille is a Solicitor who specialises in Employment Law and Immigration & Asylum. She has experience of representing clients in the Employment Tribunal and the First Tier Tribunal (Immigration & Asylum Chamber).
Camille's Employment Law experience ranges from straightforward holiday pay claims to complex discrimination cases. She was called to the Bar in 2011 but decided after experience in both Chambers and Law Centres, that a career as a solicitor was her real calling.
Camille enjoys working with clients, obtaining successful results for them and being involved with cases from beginning to end. She is an accredited Immigration & Asylum Level 2 Senior Caseworker, in accordance with The Law Society's requirements. Camille is a member of Young Legal Aid Lawyers and the Employment Lawyers Association.
Client Testimonials
"Thank you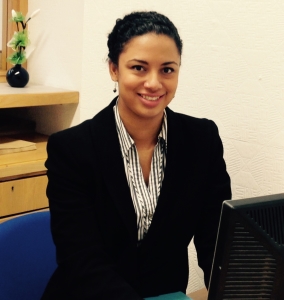 for all your help and support over the last year. You have been a great help to me and A and I wouldn't have done it without you."
"Thank you for all your invaluable support with my recent disciplinary hearing. You were an immense support and a calming influence on me, especially when I was in a flutter over the statement. You have patience in abundance, which is a virtue. The statement proved an extremely useful, even invaluable, tool. The Assistant Director praised the statement and said he wished such statements were at hand for every disciplinary he conducted."
"I just wanted to drop you a line and say many thanks for the advice you have given to me regarding my current employment situation. I was grateful that you took the time to listen to and empathise with my current difficulties and explored a number of options that may be available to me. Even though you were not able to offer me any further legal support on this occasion it was clear that you had considered my case carefully and I appreciated the honest opinion and sound advice that you provided in terms of timely follow up."
"If I ever needed RLE's service I would not hesitate to call you. Thank you for all your help, patience and advice."
"Camille was brilliant, always professional, easy to talk to and always explained everything. Lovely person and I cannot thank her enough. Excellent."